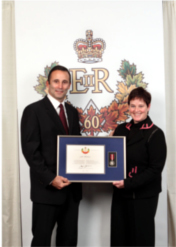 PHOTO: Nadine Henningson, Executive Director Canadian Home Care Association presents John Whitehead with the award in Vancouver British Columbia.
Sudburian Receives National Recognition For Innovative Services That Enable Seniors To Safely Age In Their Homes With Dignity & Independence
The Canadian Home Care Association honoured Sudbury businessman John Whitehead with the Queen Elizabeth II Diamond Jubilee Medal for outstanding home care leadership in Canada, November, 2012.
The medal was jointly awarded by the Canadian Home Care Association (CHCA) and the Canadian Caregiver Coalition (CCC). The award was in recognition of Whitehead's innovation in home and community care for vulnerable seniors across Canada, and the support it provides to family caregivers. The specific product is called CareLink Advantage and was developed to help keep his mother living safely and independently after she was diagnosed with Alzheimers.
"Given the significance of the Diamond Jubilee medal as a reflection of the Queen's lifelong commitment to service, I can think of no better way to recognize the dedication and commitment that John has shown to the betterment of communities and quality of life in Canada", stated Nadine Henningsen, Executive Director CHCA and President CCC. Through the engagement and involvement of leaders, such as John, we will be able to achieve a vision of integrated health and wellness that provides accessible, responsive services that enable people to safely stay in their homes with dignity, independence and quality of life.